Starting in Term 1 2012-2013, students and faculty can group the courses that appear in the My Courses box by term. To turn this feature on, click the MANAGE MY COURSES button (the gear-icon on the right side of the MY COURSES box heading).

This opens the PERSONALIZE: MY COURSES page. At the top of this page you will see a checkbox labeled "Group By Term". Check this box and click SUBMIT at the top or bottom of the page to group the contents of your My Courses box.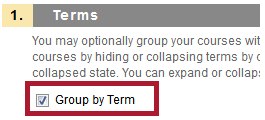 This space also provides additional items. Click and drag the cross arrow on the left of a term name to move that group up or down. Uncheck EXPAND TERM to have that group collapsed by default. Uncheck SHOW TERM to hide that term from view.