Signing in to Lime Survey
Using Lime Survey to gather data can be a great resource to all University of Detroit Mercy Faculty/Staff/Administrators/Students. It's a free, supported tool should UDM folks ever need assistance. Currently, we are working on additional tutorials to better assist folks with their Lime Survey needs. Until then, you may contact the Instructional Design Studio at: 313-578-0580 or ids@udmercy.edu to schedule an appointment to learn how to use Lime Survey.
First you will "login" to Lime Survey by going to:
https://surveys.udmercy.edu/limesurvey/admin/admin.php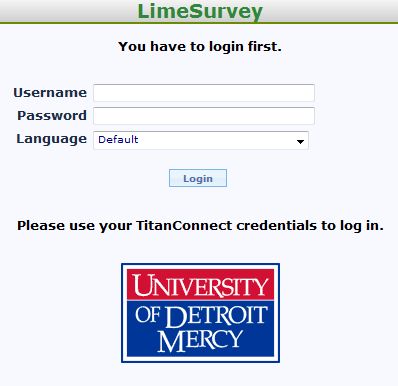 NOTE: You will use the same username and password combination that you use to get into Titan Connect, Blackboard, and the Research Portal databases. The user you wish to add must have already signed into Lime Survey in order for you to add the user to your survey. If you can not find someone, have them first sign into the site to activate their Lime Survey account.
You should see a message that looks like the following:


Up next, we'll work on creating a new survey and work through the settings.
Shortlink for this post: http://ids.commons.udmercy.edu/?p=1632