Bulk deleting course content
Deleting content from your course can be a quick process relative to deleting one item at a time. This can be useful if you accidentally import the incorrect course content into your upcoming course. Or maybe you wish to clear out a specific section of your course to revamp it's contents.
PLEASE NOTE: This action can not be undone. Once content is deleted, there's no getting it back! So please be sure you want to remove the content you've selected.
Before you go any further, double check to make sure you are in the correct course before deleting content by checking the Course ID. Check out this tutorial on Reading course ID's in Blackboard.
Now that you're in the correct course, in the Control Panel section click on Packages and Utilities > Bulk Delete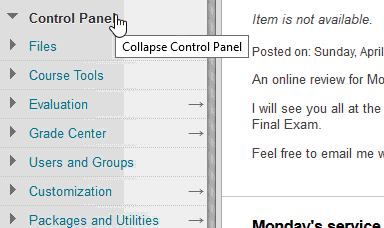 Select the Content sections you wish to remove the content in. You may select all of the options to remove everything, or maybe you wish to only remove specific items. You can skip this section if you only wish to remove something in the next section.
Then select any other materials you wish to bulk delete, like maybe the old course announcements.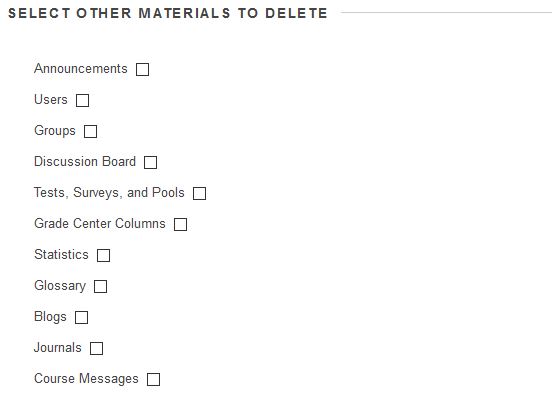 Remember, you may select just one, or all of the options listed in the above 2 sections to get the desired end results.
When you have your selection, type "Delete" in the Confirmation box,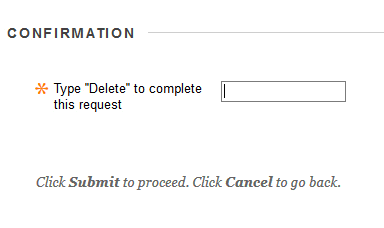 Then click the submit button.

You should now have a cleaned content menu. However, documents and files that were once listed will still have the files listed in the "Files" section of your course. The second part is to clean out the "Files" section of your course as well. Click here to review the tutorial Permanently removing files from the file library.
Shortlink for this post: http://ids.commons.udmercy.edu/?p=1558