Install Audacity on a Mac
Audacity is free, open source software that makes it simple to record and edit audio on your computer. Installing Audacity on a MAC isn't difficult, there's an extra step that's often overlooked if you want to save your recordings as MP3s, rather than much relatively large WAV files.
To download Audacity, go to the Audacity downloads page (http://www.audacityteam.org/download/) and choose the appropriate version.
In this walkthrough, we'll be looking at downloading and installing Audacity on your MAC.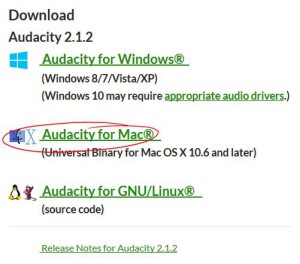 There are a few versions available for you to download, but we recommend you download the first .dmg file.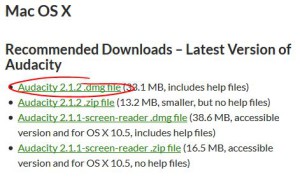 Depending on your browser and set-up, the file may automatically be saved to your downloads folder. If not, click SAVE FILE and choose a location on your computer where you'll be able to locate the installer if necessary
Double-click the downloaded DMG to mount it.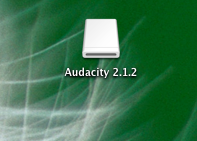 Do not double-click the "Audacity" folder in the DMG window. Drag the entire "Audacity" folder icon to the /Applications folder icon on the right (or to any other location of your choosing).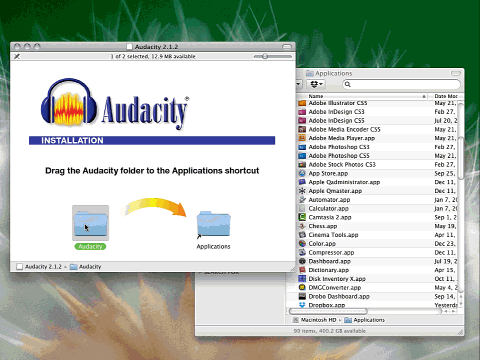 Eject the DMG at bottom left of Finder, then launch Audacity.app from the "Audacity" folder in /Applications or from your chosen location.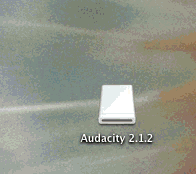 Known Issue: Security settings on OS X 10.7 or later may block Audacity being launched. Most users on OS X 10.9.5 and later will experience this, due to changes made by Apple.
To permanently enable Audacity launch, right-click or control-click on the Audacity application in Finder, choose "Open", then in the dialog box that appears, choose "Open".
If exporting your recordings as rather large WAV files is sufficient, then you're all set. We recommend installing the LAME MP3 library, which will allow you to save your recordings as much smaller MP3 files.
To download the LAME Library, launch Audacity. Then click EDIT, choose Preferences, select LIBRARIES, then under the MP3 Export Library section, click DOWNLOAD in the LAME MP3 Library line.
Once the Lame Library mounts, double click the .pkg file to run the installer, then click Continue. Select your hard drive to install, click Continue, then Install. Enter in your computers password if prompted, then click ok. Once it's finished, click close to exit the installer.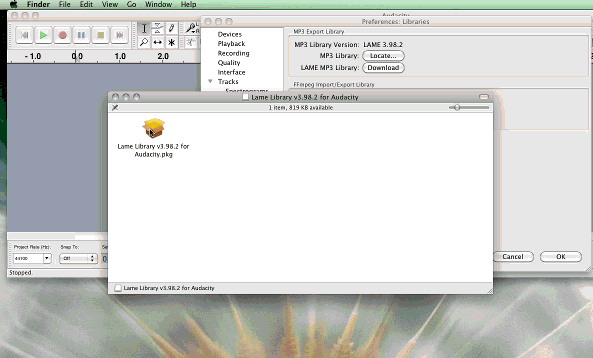 Now you're ready to export your Audacity recordings to MP3 as well as WAV.
Check out this video on how to record audio with Audacity: http://ids.commons.udmercy.edu/?p=1475
Shortlink for this post: http://ids.commons.udmercy.edu/?p=1499