Editing and Creating Piazza Folders
Once you've created a Piazza space for your course, you will probably want to edit the folder structure so it more accurately reflects how you plan to use Piazza in conjunction with your course. Piazza folders function much like folders or discussion forums on Blackboard: they serve to organize the discussions or questions in your Piazza site. However, where on Blackboard a user first enters a Discussion Forum, then creates a post, in Piazza, one starts creating a post and selects where it belongs from a list.
To make changes to the default folders, click MANAGE CLASS at the top of the Piazza page.

The Configure Folders setting space is a little buried in the current version of Piazza. To get to this section quickly, click CUSTOMIZE Q&A.

By default, Piazza offers a number of folders. To make changes to these defaults, select the EDIT DEFAULT FOLDERS radio-button.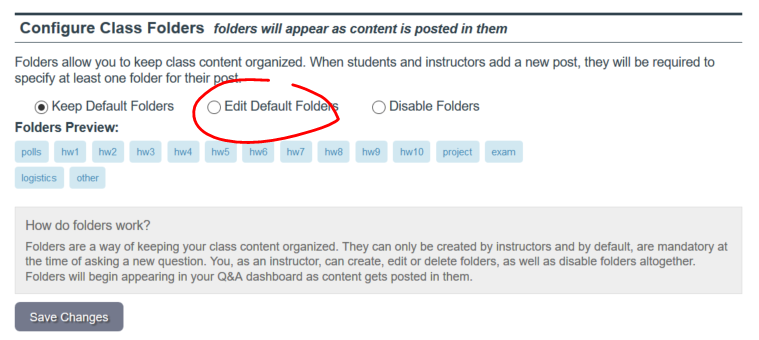 You'll notice there two types of folders: Numbered folders and custom folders.
Numbered folders appear a some text followed by a number. For example, you may have 10 weekly homework assignments. To create folders for each of these, you need only enter the text Homework (or Assignment) in the text space, then select the appropriate number (10) from the How Many pulldown.
To edit the existing numbered folders, click the EDIT button.

You'll notice Piazza provides a fair number of suggestions for labelling numbered folder. If none of these suit your needs, choose "Create your own," then enter your custom label in the space provided.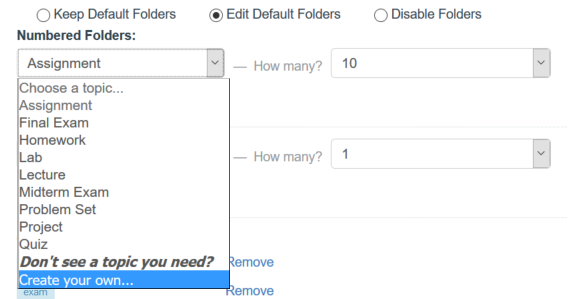 Note that in these labels, spaces will be converted into underscores and capital letters will be converted to lowercase. To save your changes, click ADD.
To create a custom folder, simply enter the folder label in the title space, then click ADD. To remove a folder, click the REMOVE link.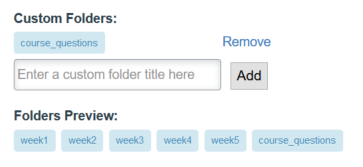 To save these changes to the class, click SAVE CHANGES.
Shortlink for this post: http://ids.commons.udmercy.edu/?p=1270